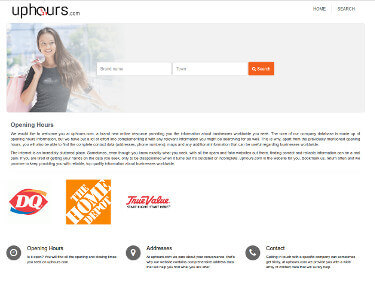 There are businesses which have their opening times clearly listed at their home page. There are retailers displaying their contact information in an clear way. And then there are those – grocery stores, small businesses and service providers, pharmacies and restaurants – which do not post their opening times anywhere online. It is often assumed that Google knows everything, however credible opening hours for many stores are often very hard to find. Uphours.com is an innovative platform which aims to accelerate and facilitate online search for opening hours for a number of US businesses from every state.
Have you ever went shopping only to find out that local grocery store has already closed for the day? Or maybe you were trying to locate a pharmacy in your neighbourhood which is open 24/7? Uphours.com, a multipurpose platform designed to share the most important information about opening times of US businesses, promises to end the struggles and discomforts of endless web searches for store opening times once and for all.
The idea behind the project comes from the need to organize and share knowledge about businesses, their opening times and contact details. Uphours.com is a digital database for US businesses, which provides easy access to up-to-date information about retailers, pharmacies, and local offices. It is equipped with a supersonic search engine which helps the users locate the business they are looking for within a matter of seconds. The main difference between Uphours.com and ordinary search engine is the fact that a simple online search may provide you with a number of irrelevant hits and, what is even worse, confusing and often contradictory information. Thanks to Uphours.com you can be sure to get only the most reliable opening times.
Equipped with cutting-edge technologies and user-friendly search tools, Uphours.com looks for ways to maximize customer satisfaction. Looking for the nearest Aldi, but you wish to buy some prescription drugs on the way? Uphours.com will not only show you the opening times of all stores in your neighbourhood, but it will also list other places and businesses near your desired destination. This way, you can minimize the time you spend on running errands and save yourself the trouble and frustration connected with arriving at the store only to find out it opens in two hours. Apart from up-to-date opening times, the platform provides you with a street view and lists services available at chosen facility. After only one use, you will realize that Uphours.com has the potential to become the ultimate online resource for opening and closing hours for retailers, service providers, and offices in the US.
Uphours.com proves to be especially useful if you find yourself in an emergency or when you are traveling to a different city. Valid opening and closing times, together with a list of other businesses in the area and a street view is literally everything you need. And it is just a few mouse clicks away.