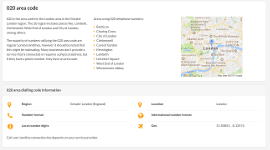 Early this year a brand new website launched to revolutionise the way we look for area codes online. UKareacode.co.uk is an invaluable resource that contains all the information one may need to find or double-check an area code from Scotland, Wales, Northern Ireland and England. This innovative platform aims to limit the time the Internet users spend on finding dialling codes online. It also provides them with a go-to repository of knowledge about UK area codes. From now on, the users from all around the world can quickly and effortlessly get the information they need with just a few mouse clicks.
UKareacode.co.uk is a platform that was created in accordance with modern web design techniques, which makes the use of this site extremely intuitive. It adopts elegant colour scheme that exudes professionalism and maximises the end user experience. On the home page of the platform you can see a brief introduction into the complex world of dialling codes. In the top panel of the page, you are presented with hyperlinks to regional subpages where you can find all the information you may ever need to call any number in the United Kingdom. In the regional sections, this user-friendly platform features an alphabetically organised list of towns and cities, together with their corresponding area codes. After clicking on the record of your choice you will be redirected to a dedicated page of the area code where you will find a short description and a list of places that it covers. There is also a Google-powered map that visualises the span of the area code. Beneath, the users are presented with detailed area code information, such as the region and location, local and international telephone number format, number of local digits, as well as geographic coordinates. The information on the platform was gathered from official resources and government websites, thus guaranteeing utmost accuracy of data.
UKareacode.co.uk is the only website of the kind that offers a holistic approach towards data concerning area codes. Other websites may claim to give you all the information you need, but it quickly turns out that you have to set up an account or pay a fee to enter their databases. With UKareacode.co.uk you get the full package. It is the ultimate resource you will ever want to use for dialling codes validation, as it is – and always will be – free of charge. The platform is not crowded with annoying commercials or noisy pop-up adds. On top of that, you do not need to provide any personal details or set up an account to enjoy unlimited access to all site's functionalities.
You never know when you find yourself in need of validating an area code to call a long-lost friend, a relative that has recently moved house, or a public administration office in a neighbouring town. Luckily, UKareacode.co.uk is available not only on PCs, but also on smartphones and tablets. This means that you can have this all-encompassing virtual database of UK area codes always within your reach, so do not hesitate and bookmark the page on all your personal devices today.