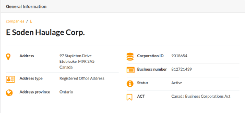 Business data is essential to many professionals such as entrepreneurs, researchers, market analysts, or journalists. But looking for practical information about businesses on the web is often more difficult than one may expect.
Online business directories frequently contain outdated or fragmentary information that doesn't help users to fully understand the local business scene or position individual businesses on the local markets. Fortunately, users have a brand-new resource at their disposal.
On Canadabiz.net, all it takes is a few clicks to gain access to full company profiles that feature critical business information users usually look for. It's possible to analyze a city or region regarding its particular activity business activity or assess a company for its performance.
Canadabiz.net is a comprehensive business directory that is full of actionable information optimized to match the needs of regular Internet users who want to learn more about businesses in Canada.
They will find information about all types of companies ranging from large and midsized to small local businesses located or registered in Canada. Canadabiz.net is a user-friendly platform where data is continuously updated and presented in a way to help users find what they need quickly.
So how can users search for businesses on Canadabiz.net?
All it takes is typing a keyword into the search engine to get a range of practical results. Users can also browse the company list featured on the website for easier access to relevant information. Canadabiz.net delivers relevant data to users efficiently and in a form that is easy to understand.
Every company on Canadabiz.net is presented on an individual profile that offers plenty of information. Users can see the full name of the company, its address together with its type and province, corporation ID, business number, status, and ACT.
Scrolling down, users will find a detailed description of the company that highlights the key facts they should know about that business. The description also lists similar enterprises located nearby to help users research a particular location or industry. At the bottom of the page, the platform displays a practical map to help users quickly find the business.
Searching for business information on Canadabiz.net is a piece of cake thanks to the user-friendly interface and smart search modalities. That's why Canadabiz.net stands out from the crowd when it comes to online business directories.
This functional business database puts the needs of its users first. It combines publicly available business information into comprehensive and fully accessible company reports. Users don't need to go through hundreds of individual pages in complex online directories. Instead, they can perform a simple search and get all the information they need with a few clicks.
Offering complete and updated company profiles, Canadabiz.net is on its way to becoming a go-to platform for everyone who would like to learn more about the business scene in Canada.