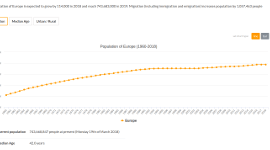 2018 saw the launch of an innovative platform designed to provide the Internet users worldwide with factual and up-to-date population and demographic information. It came to life in order to structure and organise population statistics available online.
Demographic and population information impact the way important decisions concerning communities are made. Governments all around the globe use them to calculate required funding for education, health and social care. They also aid entrepreneurs and market researchers in making decisions about business ventures and product lines. Also academics from numerous scientific branches support their findings with real population facts and figures. It is important to notice, though, that in the world of demographics not all data is equal. There are multiple websites that offer population statistics, however their source of information is not always reliable. With that in mind, the developers behind Populationof.net decided to create an all-encompassing virtual repository of knowledge about world population. The platform was designed to end disinformation once and for all and provide the Internet users with a go-to virtual resource containing only the most relevant population data. As the information presented on the website is gathered from official documents and government resources, the developers have equipped the platform with a supersonic search engine that is able to pick up precise information within a matter of seconds. The website also features a set of smart algorithms that support multiple behind-the-scenes processes to present the users with content that is informative and easy to follow.
On Populationof.net you can find a brief overview of world population information. There is also a section devoted to demographic data concerning six major geographic regions – Asia, Africa, Oceania, Europe, North America and Latin America and the Caribbean Region. In the regional sections the users are presented with population data, median age figures and rural versus urban demographic distribution. All that is displayed on a user-friendly chart that features relevant information dating back to the 1960s, so that the users can have a full picture of population changes throughout the last decades. Interestingly, the platform also contains a table with estimated population numbers between the years of 2020 and 2050. Finally, on the very bottom of each section, the users can find a chart depicting historical and estimated rate of population growth. Each chart and table comes together with a short commentary. Regional sections house internal hyperlinks to country subpages that contain detailed population and demographic figures specific to a particular country. At first sight, the use of the platform is very intuitive. It maintains modern and bold colour scheme, that undeniably maximises the end user experience.
The developers have thought of every minute detail to make the platform easy to navigate and effortless to use. The undeniable advantage Populationof.net has over other platforms of the kind is the fact that the users do not have to set up an account in order to enjoy full unlimited access to all site's functionalities. The use of the platform is and always will be free of charge. On the top of that, the website is compatible with modern portable devices, so do make sure to bookmark the page on your smartphone and tablet today.