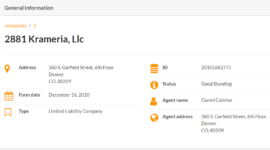 How many effective directories and searches exist for US corporations? Truthfully, none. That's a sad answer for anyone who's curious on the broader scope of a business, including the history of its performance. You can spend hours poking around on the internet, trying to find a clear answer that is both up-to-date and easy to interpret, or you can use Bizset and locate the right information in a readable format with only a few clicks.
Know where a company is headed
If you've received an employment offer from a company and you want to know if they're worth your time, finding a straight answer is usually complicated. Bizset serves as a fully functional US corporation search, focusing only on the data you need. If a company frequently downsizes or is lackluster in its long term performance, you'll know before you accept the offer. If their profit margin has been steadily rising over the past few years, you may have found the opportunity you've been looking for.
The same goes for investors. Before you start purchasing stocks, you want to be able to predict what will happen with your investment. Having all the insight you need before you start throwing your money around will help you make wiser decisions, giving you a laundry list of reasons to either believe in a company, or switch to their competitor. You won't get lost in meaningless fragments of data about US businesses when you can see a comprehensive current outlook and compare a company's current state against its past.
Have access to crucial facts
Are you considering relocating? What companies are you interested in working for? Where are they located, and in what states would you be able to find employment with them? How many firms provide the service you specialize in? Bizset will help you find out.
Outside of research for major life choices, you'll be able to find all kinds of helpful data with Bizset's US business search. You'll be able to view a company's locations with maps and Google street view. You'll know their current legal status, contact information, and who is running the show. You'll have a complete picture instead of the small snapshot you'll get from a corporate website. You'll be able to see how companies are connected, and how competitive businesses stack up against each other.
With Bizset, you'll even be able to view data about smaller businesses. If you're attempting to make an effort to support smaller businesses, or perhaps even start one of your own, a fundamental understanding of the small business market is crucial.
Whatever you need US company information for, Bizset is the easiest way to find it. You won't be bombarded with corporate pitches and mission statements – you're only getting the statistics you were looking for presented to you in a reader-friendly format.