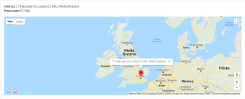 An exciting new project has launched this year to help Internet users worldwide find current and up-to-date postal codes. Postcode-checker.co.uk is a database of knowledge designed for everyday use. It is targeted towards business professionals, researchers and individual Internet users. The platform offers unlimited and free access to thousands of addresses matched with corresponding postal codes. This unique postcode finder aims to provide its users with comprehensive datasets concerning UK and international addresses and postal codes. You do not need to create an account or disclose your personal data to have full access to the site.
There are over 1.8 million postcodes covering the 30 million addresses in the UK alone. They are created basing on a set of carefully governed principles referring to the city or town, district location, sorting office and individual unit. First attempts to introduce basic postal code system in the UK date back to 1864, when Liverpool was the first provincial town to be divided into postal districts. However, it wasn't until 1974 that the postcode system as we know it today has taken its final shape. And everyone, from a successful businessman to a busy housewife, knows how important it is to have access to reliable sources of information when it comes to postal codes and addresses. There is no denying that the Internet is the most popular tool for conducting said searches. There may be some pages where you can verify the address and postal code, but it often happens that they contain outdated, uncorroborated or contradictory information. What distinguishes Postcode-checker.co.uk from ordinary websites is the fact that this cutting-edge platform uses state-of-the-art technology to provide its users with only the most reliable information that is updated on a regular basis. The service offered by this postcode finder is one of a kind, as it has been created from the need to end disinformation once and for all and spread structured knowledge about postal codes to every Internet user in need.
How does it work? The use of the platform is quite intuitive thanks to sleek layout and minimalist design. On the main page you will see centrally located search bar where you should input your search parameters. If you type in the address, search engine will look up corresponding postal code. If, on the other hand, you will type in the postal code, the search engine will present you with a list of addresses assigned to it. For times when you have troubles recalling the exact street name, smart algorithm will produce relevant suggestions. Below the search bar there is an interactive map that displays the location of your search. You can also use it to indicate any place by clicking on the map and you will be presented with correct address. To change your search, simply drag the indicator to a different spot of your choice. For UK cities and major towns, the users can also manually select the name of the place they are looking for from alphabetically organised list located underneath the map for convenient and effortless postcode search. Thanks to this innovative platform, gathering postal information has never been so simple.